History
Suzanne became a Christian through the miraculous healing of her horse Jacky Boy in 1974. She then gave her life to serving the Lord through running a Christian holiday farm. Suzanne was also a worker for Christian Action for Israel for 12 years. Here she spoke in many churches on their behalf. Suzanne married her husband Wilfrid in 1983 and graduated at the Bible Institute of South Africa, Suzanne has since been ordained. They have one 19 year old daughter called Rebecca who is un artist.
In 1993 the Lord called them back to England and in 1996 they bought land and built up Standlake Equestrian Centre for a living and a Christian Ranch which is run to raise funds for the Ministry.
Healing Ministry
Alina was healed of HIV/AIDS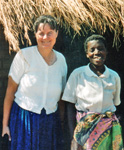 In 2000 Suzanne went to Israel with Eurovision headed by David Hathaway and the Lord anointed her with a healing ministry. Since then she has been invited to speak in different countries, conferences and churches as an evangelist with a healing ministry, she has become affiliate evangelist with Eurovision and concentrates mainly in Africa and the Far East. She also accepts invitations to speak in Churches or Conferences in England.
Suzanne has seen many miraculous healings including people getting out of wheelchairs and walking after years of being paralysed.
Read testimonies of many people who have been healed from around the world here
Bible school and bicycle ministry
In 2006 we opened our first Bible School and Bicycle Centre in Ghana. God then opened the Bible School and Bicycle Centres in every region of Ghana. This soon spread to anouther 16 countries and soon and 51 Centres were planted by the end of 2006. By 2007 these increased to over 100 Bible School Centres. We equip the trained evangelists with a bicycle, megaphone and bibles to reach the remote villages of Africa,India and Asia who have not yet heard the gospel.
Bala Orphanage
Bala Orphanage in Bala, Kenya has been built up since 2000 for 380 orphans complete with a Christian School. It is now a registered charity and people may sponsor an orphan for £5.00 per month. We accepted 80 new orphans in January 2005. Please contact us for details.
2007 Bala Orphanage School achieved the highest standards in the Bala region with 20 students obtaining the top marks in their region. At present a high school is being built for some of the growing orphans.
We opened 2 new orphanages in Jan 2008.

1) HANDS OF HOPE ORPHANAGE in Zambia to 51 chidren who were literally starving in the villages due to lack of food to beg for as the result of the floods. These children have been rescued by the local Church and put into foster homes in return for one hours work a day to be fed and educated by the Church. We are sending over £400, that is $600 per month to cover the food costs. This orphanage needs much help and a further 300 starving children 10 miles from this orphanage are now meeting daily for a cup of food and to learn to read and write under two trees.
We are the only charity they have to support them.

2) FAITH PRIMARY SCHOOL opened in India in January 08 to bring back the orphans who were put onto the streets to beg, as a result of no money to buy food for them. We did this by turning thier quality building into a primary school and the locals pay for education. This enables the orphans to be fed and educated while put into foster homes with church families. The scheme is working well and already they have 57 paying pupils and 86 orphans rescued from the streets who now enjoy being part of a family home. We thank the Lord for giving us his wonderful plans.
The Lord has miracously provided Peter and Donna Foulds who have bought the orphanage for the orphans and are providing for their needs. We thank Donna and Peter for all they are doing.

WHY STEP OUT IN FAITH MINISTRIES?
The ministry is unique.
1) Our goal is to reach every village, in every region, of every country in 5 years. This is done by sending evangelists on bicycles to rural villages.
2) Correspondent Bible School Centres, to train up evangelists and pastors for the new churches.
3) Pastors' Workshops to equip the local pastors better for God's work.
4) Teaching Letters to encourage every pastor and church member that wants one.
All this is done with the minimum financial outlay with the Holy Spirit who moves in amazing ways, to prove to the people that Jesus is alive, still saving the lost, healing the sick and delivering the captives from bondage.
This is truly GOD'S WORK and all we have to do ''is step out in faith.''
THANK YOU.

We run the riding school for a living and Standlake Ranch totally to raise one third of the financial needs of 'Suzanne's Ministries'. The other two thirds of the bicycle needs are gifted through our partners who receive our newsletters.
We thank the Lord and pray for each partner who, with the Lord makes this ministry possible.
We would also like to give mention to other Christian charities and businesses who have given to us in various ways. These supporters have helped raise our ministry.
1) David Hathaway who helped start this ministry, e-mail office@eurovision.org.uk

2)'International Ministrial Fellowship' who ordained me & designs & posts out our news letters at reasonable cost. e-mail carol@i-m-f.org

3)'New Wine Publishers' who have published all our books and supported us in various ways. www.newwineministries.co.uk

4)'Revelation T.V.' Church in Focus who put out our programmes,
e-mail yemi@revelation.com

5)'Christian.tv' who put our programmes on internet T.V. www.christian.tv

6) Peter Turner who artistically designs our DVDs.
e-mail peterandruthturner@bigfoot.com

7)'Two By Two Worship' who produce all our DVDs
e-mail david@twobytwoworship.com
Suzanne's book: DARE TO ENTER HIS PRESENCE MADE FEATURE BOOK ON HARVEST SHOW INTERNATIONAL T.V.U.S.A. on 3rd May 2006. (watch now on our YouTube channel)
'DARE TO STEP OUT IN FAITH' came out in Spring 2007. The foundations of our faith with practical outworking of our faith.
NEW BOOK RELEASE: 'DARE TO DO ONLY THE FATHERS WILL', This book transformed Suzannes life and ministry as she wrote it.
To make your orders for this book email suzannesministries@gmail.com
Click here or go to www.newwineministries.co.uk or e-mail: newwine@xalt.co.uk
(c) Suzanne's Ministries mmxix